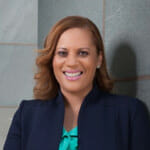 Assistant Vice President for Multicultural Advancement, Alumni Engagement and Development Office, Duke University
Clarybel has over 20 years in higher education administration. She is an expert in setting strategy, leadership development, and implementation and administration of diversity and inclusion initiatives. She has designed and delivered trainings related to inclusion, unconscious bias, cultural competence, and microaggressions and has extensive experience in organizational culture and change management.
In her current position at Duke University, Clarybel is responsible for volunteer engagement of over 16,000 alumni which includes creating and developing processes and procedures with the goal of improving efficiency and the overall experience. She focuses on recruitment and retention efforts that include coordinating strategy, identifying trends, and data analytics. She is responsible for curriculum development and integrating leadership development by facilitating onboarding initiatives, trainings, and opportunities for understanding organizational culture and history. She serves as the primary staff contact for our Board of Directors and is responsible for the development of the onboarding/offboarding experience. She also serves on the Awards and Recognition Committee and the Committee on Diversity and Inclusion and coordinates all high-level logistics for the three board meetings annually.
Clarybel earned a Bachelor of Arts in Sociology from the Maxwell School of Citizenship at Syracuse University and also holds a Masters in Higher Education Administration from the University of South Carolina. In 2014, she successfully defended her dissertation entitled "The re-conceptualization of historically white fraternities and sororities; the black students experience" earning her Doctorate in Organizational Leadership and Communications from Northeastern University.