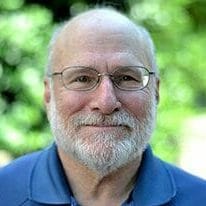 David Kiel is the author of Creating a Pipeline for Innovation Within Your College or University, published in 2023. Learn more about the book and order it here.
In this book, Kiel provides a five-step process for supporting innovation and innovators at any institution of higher education. He shows how leaders and innovators can work together to improve programs, adapt to change, build the reputation of the institution, and generate significant revenues. Kiel argues that we must recognize the "academic intrapreneur" as a powerful resource and shows how these talented innovators and their ventures may be developed to create a major positive difference in the prospects of the institution.
This "How to do it in on your campus" book is based on Kiel's work with intrapreneurial faculty members over twenty years at the University of North Carolina at Chapel Hill and case studies and information from another three dozen campuses including community colleges, four-year colleges, regional universities, and AAU research intensive institutions. In providing examples and precedents for his recommendations, Kiel draws on intensive interviews with some of the most innovative leaders on the higher education scene today.
Kiel started his work as a faculty leadership developer at UNC-CH in 2001 where he created 7 separate leadership development programs for faculty at UNC-Chapel Hill. He also developed programs for faculty mentoring throughout the campus. This work led to his previous book for AI In 2019 Developing Faculty Mentoring Programs: A Comprehensive Handbook.
From 1982 to 2010 he consulted with leaders in government, non-profit, and small business organizations, primarily in the areas of strategic planning, change management, leadership development, team building, and conflict resolution. He has written numerous articles on leadership development, change management, and organizational development. After receiving his doctorate in 1974, Kiel taught courses in public administration and public health at three state universities from 1974-1985
He has been a member of the NTL Institute of Applied Behavioral Science since 1998. He currently coaches and consults with higher education leaders who are trying to bring about positive changes at their institutions.