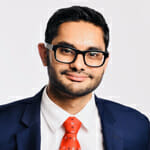 Deputy Chief Philanthropy Officer for Principal Gifts, University of Utah
Specializing in higher-education fundraising, Dhiraj lives in Salt Lake City, Utah, where he is the Deputy Chief Philanthropy Officer for Principal Gifts at the University of Utah. In this role, he sits on the advancement leadership team and works to generate philanthropic support for health sciences, academic initiatives, donor relations, student programs, research activities, and presidential initiatives. With over 14 years of experience in higher-education leadership, major gift fundraising, campaign planning and strategy, corporate and foundation relations, board development, and communications, Dhiraj helps benefactors to be a force for good in the community. He is passionate about anti-racism and DEIB and actively contributes to solutions-based collaborations that ensure that all students have access to and through higher education.
Prior to his current role, Dhiraj worked with a range of diverse student programs within the offices of Student Affairs and Diversity/Equity/Inclusion. In his spare time, he enjoys going to the Sundance Film Festival, participating in community activism, attending live theatre, and serving on several Utah non-profit boards. He is currently the board chair for the Rape Recovery Center, a non-profit dedicated to empowering those victimized by sexual violence and providing education in the community. Dhiraj often consults with non-profit organizations to help them to maximize their fundraising potential.