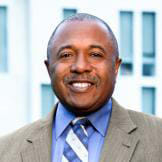 Director, First-Year Experience & Family Programs, Case Western Reserve University
As director, Edwin is responsible for the leadership and vision of programs for first year and transfer students and parents and families. He works closely with the student success initiative, enrollment management, residence life, and other internal and external partners to support students' successful transition from high school through their first year at the university.
Prior to his position at CWRU, Edwin served as director of First-Year Experience at Wright State University in Dayton, Ohio. He also has held higher education administrative positions in student services and community relations at Earlham College in Richmond, Indiana; Wittenberg University in Springfield, Ohio; the University of Michigan in Ann Arbor; and at the University of Colorado in Boulder, Colorado.
Edwin was instrumental in bringing Dialogue to CWRU and is also co-chair of the university's award-winning Sustained Dialogue Program and a member of the Diversity Leadership Council. He is a facilitator for both student and faculty & staff diversity training programs and is a strong support of diversity and inclusion efforts on campus.