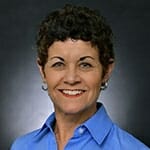 Elizabeth Ciabocchi, Ed.D.
Vice Provost for Digital Learning, Executive Director of Online Learning & Services, and Adjunct Associate Professor of Education, School of Education, St. John's University
In her current role at St. John's University, Liz leads academic initiatives that include the development of digital learning strategies in campus-based programs and online/hybrid degree and certificate program development. Additionally, she supervises the Office of Online Learning and Services, co-chairs the University Assessment Committee, and serves as a member of the Middle States Steering Committee, Academic and Administrative Assembly, and Provost's Council. Ciabocchi teaches in the Department of Administrative and Instructional Leadership in the SJU School of Education. She serves on the Board of Directors for the Online Learning Consortium (OLC) and is an OLC Fellow (Class of 2015). Liz frequently presents at higher education conferences on institutional leadership & strategy and online learning leadership, which are her research interests as well. She also serves as an accreditation evaluator and member of the Substantive Change Committee for the Middle States Commission on Higher Education. Liz holds an Ed.D. in Higher and Postsecondary Education from Teachers College, Columbia University, a D.C. from New York Chiropractic College, and a B.S. in Biology from the University of Scranton.