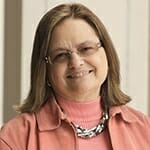 Adjunct Faculty, Queens University of Charlotte
Between 2104 and December 2018, Emily Richardson was responsible for the Hayworth Center for Online Learning at Queens University of Charlotte, focused on five fully online programs at the graduate level. Prior to this position, she was the associate vice president for Boundless Learning at Stetson University for two years. She began her education career at Widener University where she spent twenty-one years, initially teaching in the School of Hospitality Management. She also served as dean of the University College, a home for non-traditional students, prior to her departure. Currently she is working as an adjunct faculty teaching online for one of her previous institutions.
Richardson started her career in the hotel management industry, where she spent time in multiple positions throughout the United States and worked for companies such as Hyatt Hotels, Harvey House Hotels and RockResorts. Her emphasis during most of her hospitality career was on training for customer service employees.