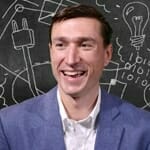 Executive Director of the da Vinci Center Virginia Commonwealth University
Dr. Garret Westlake is heading the transformation of VCU into one of the nation's leading universities for cross-disciplinary collaboration, innovation, and the inclusion of entrepreneurial thinking as a requisite skill for the innovation economy. As executive director, Dr. Westlake advances university-wide student innovation and entrepreneurship through curriculum as well as through curated experiential education opportunities.
As a technology entrepreneur, Dr. Westlake founded a social impact company that employed individuals with autism in STEM. Prior to joining VCU, Dr. Westlake served as the associate dean of student entrepreneurship for Arizona State University's #1 ranked Office of Entrepreneurship and Innovation. He has worked closely with Ashoka U, the Clinton Global Initiative University, and for the Network for Teaching Entrepreneurship. Students and startups he has mentored have been named to Forbes 30 Under 30 for Healthcare Innovation, awarded Rhodes Scholarships, named Resolution Project Fellows, and have been accepted to SXSW and Y Combinator.