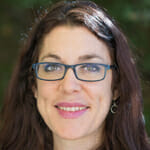 Grace is manager of Programs & Industry Partnerships for Academic Impressions, where she develops dynamic training programs that give clients the knowledge and skills they need to solve complex problems and excel. The ability to help companies empower their employees and impact their mission is what inspires her everyday.
Grace joined Academic Impressions in 2016, after leading the development of training programs for a Saudi Arabia-based educational organization. As a university instructor and avid adventurer, Grace followed her passion for new and challenging environments holding teaching and leadership positions in universities in South Korea and Saudi Arabia.
Grace holds a Master's in Curriculum and Instruction from the University of Colorado and is a credentialed master trainer. She earned a Bachelor's in Business Administration from the University of Colorado, as well.
While the expression, "city girl with a mountain heart" may not actually exist, Grace says it describes her conflicted dichotomy perfectly.