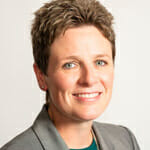 Executive Director of Development, The Fund for Johns Hopkins Medicine, Johns Hopkins University
Heather leads the fundraising team for the Department of Neurology and Brain Sciences at Johns Hopkins Medicine. As a senior member of the development and alumni relations team, she works closely with the Chair of the Department, overseeing all aspects of fundraising including annual, major and principal gifts, stewardship, communications, event planning and alumni relations. At Johns Hopkins, Heather and her team have raised more than $275M for education, research, and patient care. She attributes the team's success to their commitment to building relationships with donors, always centered on trust and compassion.
Before joining Johns Hopkins Medicine, Heather worked in a number of fundraising roles, first at Washington College, and then at the University of Maryland Carey School of Law. At both institutions, she worked closely with senior leadership and alumni supporters to raise philanthropic support, resulting in successful comprehensive campaigns. Heather's experience partnering with alumni of both undergraduate and graduate institutions—along with her current work with grateful patients—gives her a unique perspective about the importance of listening to, understanding and articulating donor motivations.
During her years in private law practice, Heather was an attorney focused on commercial litigation and estate planning and administration. Heather has a B.A. in English from Washington College and a J.D. from the University of Maryland Carey School of Law. She is past president of the Chesapeake Planned Giving Council and past chair of the Alumni Board at Washington College.