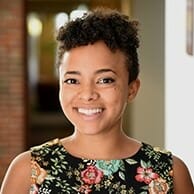 Indigo Young, MS, CCC-SLP
Instructor, Communication Sciences and Disorders, MGH Institute of Health Professions
Indigo teaches and supervises graduate clinicians in the interdisciplinary Impact Practice Center. She specializes in pediatric speech and language disorders and is an ASHA-certified Speech Language Pathologist. She also holds a Massachusetts state license in addition to holding an initial teaching license in Massachusetts for Speech Language Pathology.
Indigo's experience includes school-based speech, language, and literacy intervention. She is particularly interested in providing culturally proficient care to diverse children and families.
In addition to developing curriculum and guest lecturing about Anti-Oppressive Intervention in various Department of Communication Sciences and Disorders courses, Indigo teaches in CD761 and CD762: CSD Clinical Practicum (Spoken and Written Communication Disorders) and CD 828: Teaching Language and Literacy to English Language Learners.
Indigo is an alumna of the MGH Institute Master of Science in Speech-Language Pathology program.