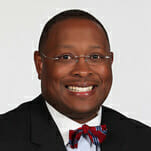 Vice Provost for Diversity and Inclusion and Chief Diversity Officer, The Ohio State University
In addition to his role as vice provost and chief diversity officer, Dr. James L. Moore III is also serving as the first executive director of the Todd Anthony Bell National Resource Center on the African American Male. Additionally, he is the inaugural EHE Distinguished Professor of Urban Education in the College of Education and Human Ecology. From 2015 to 2017, James served as a program director for Broadening Participation in Engineering in the Engineering Directorate at the National Science Foundation in Alexandria, Virginia, and, from 2011 to 2015, he was an associate provost for Diversity and Inclusion at The Ohio State University, where he managed numerous programs and units.
James is internationally recognized for his work on African American males. His research agenda focuses on school counseling, gifted education, urban education, higher education, multicultural education and counseling, as well as STEM education. He is often quoted, featured, and mentioned in popular publications, such as the New York Magazine, New York Times, St. Louis Post-Dispatch, Columbus Dispatch, Spartanburg Herald, Cincinnati Enquirer, Journal of Blacks in Higher Education, Chronicle of Higher Education, and Diverse: Issues in Higher Education. From 2018 to 2021, he was cited by Education Week as one of the 200 most influential scholars and researchers in the United States, who inform educational policy, practice, and reform.
James received his B.A. in English Education from Delaware State University and earned both his M.A.Ed. and Ph.D. in Counselor Education from Virginia Polytechnic Institute and State University.