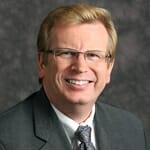 Former Dean of the Honors College Florida Atlantic University
Jeffrey L. Buller is widely recognized as one of the most effective promoters of academic leadership development in higher education today. He currently serves as dean of the Harriet L. Wilkes Honors College of Florida Atlantic University, having previously served for more than thirty years in administrative positions at Loras College, Georgia Southern University, and Mary Baldwin College. On July 1, 2016, he will transition, after ten successful years as a dean at Florida Atlantic University, to becoming that institution's first executive director of a newly created Center for Leadership and Professional Development.
Dr. Buller is a prolific author, best known for The Essential Department Chair: A Comprehensive Desk Reference, Academic Leadership Day by Day: Small Steps That Lead to Great Success, The Essential College Professor: A Practical Guide to an Academic Career, The Essential Academic Dean or Provost: A Comprehensive Desk Reference, Best Practices in Faculty Evaluation: A Practical Guide for Academic Leaders, Positive Academic Leadership: How to Stop Putting Out Fires and Start Making a Difference, Building Academic Leadership Capacity: A Guide to Best Practices, A Toolkit for Department Chairs, and A Toolkit for College Professors.
From 2003-2005, he served as the principal English-language lecturer at the International Wagner Festival in Bayreuth, Germany. More recently, he has been active as a consultant to the Ministry of Education in Saudi Arabia, where he is assisting with the creation of a kingdom-wide Academic Leadership Center. Along with Robert E. Cipriano, Dr. Buller is a senior partner in ATLAS: Academic Training, Leadership, & Assessment Services, through which he has presented numerous training workshops on change leadership in higher education all over the world.