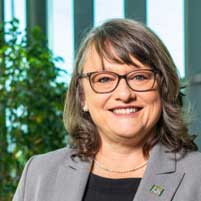 Dean, College of Continuing Education, Sacramento State University
Dr. Murphy has over 20 years of professional experience in the areas of training, operations, human resources, project management, marketing, and education. She has had a successful and rewarding career at Sacramento State for the past 19 years and enjoys the opportunity to blend professional and personal activities to give back to her community. Throughout her career she has applied her professional background, personal characteristics, and academic training to build and implement strategies that move organizations forward. She was the recipient of the 2018 American Society for Public Administration (ASPA) Sacramento Chapter's prestigious Chester A. Newland Academic Excellence Award for her leadership in the education of public administrators, was also one of seven "Women of Influence" honored by Sacramento State for outstanding leadership on campus and in the community, and received the 2019 Edward M. McAleer Jr. Excellence and Innovation Award from the California State University Commission on the Extended University.
Dean Murphy's research has focused on the projected shortage of postsecondary completions and degree attainment in California. As a dean, her work is at the intersection of workforce impact, economic development, and higher education, and she currently serves on the CSU Commission on the Extended University. Dr. Jenni is also leading ProjectAttain!—a region-wide effort to raise educational attainment, narrow the equity gap, and meet our region's workforce needs. The goal of this initiative is to increase the number of working age adults with high-quality degrees, certificates, and other credentials to 60% by 2025.