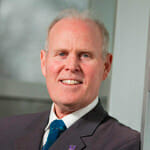 Acting Vice-Provost and Associate Vice-President (International), Executive Director, Western Leader Academy, Western University
Dr. Jim Weese teaches, consults, conducts research, and delivers speeches on the topic of leadership. He is heralded as a transformational academic leader and a leading authority in the area who has engaged audiences across many sectors on the merits of a team approach to leadership. His "5C Leader" concept serves as the foundation to his approach to leadership and his recent book entitled: The 5C Leader: Exceptional Leadership Practices for Extraordinary Times. He has served in a number of senior leadership positions during his career including serving as the President of the North American Society for Sport Management and President of the National Deans Councils for both Kinesiology (CCUPEKA) and Health Sciences Deans (CAHSD).
He has earned a number of academic and leadership awards throughout his distinguished career including the top research and leadership awards from his profession, the Queen's Jubilee Medal by the Government of Canada in 2002 for his academic leadership and ten years later, the Queen's Diamond Jubilee Medal in recognition for his leadership and advocacy for exercise and physical activity. In 2010 Weese worked with the Men's and Women's Olympic Hockey Teams at the Winter Olympic Games. In 2014 his alma mater, the University of Windsor inducted him into its Sports Hall of Fame.
Dr. Weese lives in London with his wife Sherri. His passions include golf, hockey, guitar, and gardening.