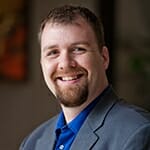 Joshua LaFave's experience over the past 10+ years has included a comprehensive canvas of Graduate Enrollment Management functions. These roles have included enrollment planning, marketing and recruitment, admissions, student services, retention, advising/coaching and career planning. In his current role, Joshua is responsible for all elements of the graduate student lifecycle, as well as the college's special sessions, early college programs, non-credit offerings, and conferences/special programs. His research on Graduate Enrollment Management includes the adoption of the integrated interdependence model in GEM, working definitions, the four "O's" of student services, and holistic strategic enrollment management planning. He is also an adjunct instructor in the Organizational Performance and Technology graduate program at his institution.
Josh's research interests include the continued development of Graduate Enrollment Management as it relates to the integration of various functions in GEM, and the synchronization of those areas as it relates to strategy, operational efficiencies, and the differentiated student experience.
Prior to beginning his current role at Clarkson University, Josh served as the Executive Director of the Division of Graduate and Continuing Education at SUNY Potsdam, Director of Graduate Enrollment for the Whitman School of Management at Syracuse University, and Associate Director of Graduate Business Programs at Clarkson University.