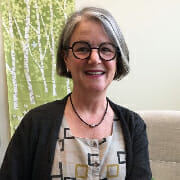 Associate Dean for Health and Counseling & Director of Counseling and Psychological Services, Hope College
Dr. Kristen Gray earned her Doctor of Psychology in Clinical Psychology from the Adler University in Chicago. She joined Hope College Counseling and Psychological Services In 1997 and became Associate Dean for Health and Counseling and Director of Counseling and Psychological Services in 1998.
During her career at CAPS, she has developed the program to include a robust clinical team, a groups program, strong working relationships across campus, a campus-wide bystander training for suicide prevention, and explored new models of service delivery. In addition to her role within Health and Counseling, she joined the teaching faculty of the Phelps Scholars Program (a living and learning, first year seminar focused on diversity and social justice) in 2013. She has served on re-accreditation committee, campus-wide strategic planning committee, Human Subjects Review Board, the GROW inclusive excellence initiative, and countless program and committees over the years. When she is not counseling students, she can be found guest speaking in classes, presiding over panel discussions, providing trainings on mental health and suicide prevention both across campus and in her community, or traveling abroad with students as they seek to expand their horizons. In 2019, she was selected by the graduating class to serve as their commencement speaker.
As a member of the Association of College and Counseling Center Directors (AUCCCD) since 1998, she has presented on a variety of topics at the annual conference. She has co-facilitated the Women's Networking Luncheon since 2007 and the New Member and First Time Attendees Orientation from 2013 to 2017. From 2010 to 2016, she was a member of the Elements of Excellence Steering Committee, strategizing and planning cutting edge programs for the national conference. In 2017, she was awarded The President's Award for Service and Meritorious Contributions to AUCCCD. That same year, she was elected to the association's Governing Board.