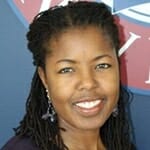 Executive Director of the Center for Innovation and Entrepreneurship Cleary University
Dr. Marlo Rencher is an entrepreneur, anthropologist, and educator with over two decades of experience in startup and small business development. She is TechTown Detroit's Diversity and Inclusion Entrepreneur-in-Residence, working to ensure that their tech programs are as diverse, inclusive, and equitable as possible. She has founded or co-founded three tech startups and is also a co-founder of Detroit Regional Angels, an angel investment group developed for entrepreneurs, by entrepreneurs.
Dr. Rencher was the co-author of digitalundivided's 2016 #ProjectDiane report, which provided groundbreaking insight into the funding gap for Black women tech founders. She previously served as vice president of innovation, entrepreneurship and diversity at Cleary University. Her responsibilities at Cleary included entrepreneurial programming, mentorship of student-run businesses, and operations at the on-campus entrepreneurial community and coworking space. She also served as the faculty chair of the entrepreneurship department at the business-focused university.
Dr. Rencher earned an undergraduate degree in marketing from Michigan State University, an MBA from the Ross School of Business at the University of Michigan, and a PhD in business and organizational anthropology from Wayne State University. She frequently speaks on technology entrepreneurship and inclusion and has been a presenter at TedxDetroit and SXSW.