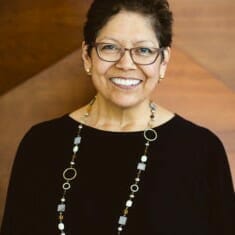 Vice President for Diversity Colorado State University
As Vice President for Diversity, Mary Ontiveros reports to the President and leads Colorado State's diversity efforts. Her duties include leading diversity planning, assessment, evaluation, accountability, and developing strategic alliances and partnerships. She coordinates activities among on-campus units, commissions, committees, and task forces; she also represents the University through networking and collaboration with outside communities, schools, and organizations.
An alumna of CSU, Mary has served in leadership positions including Executive Director of Admissions, an affiliate faculty member in the School of Education and as Associate Vice President in the Division of Enrollment & Access. She chairs numerous university committees, councils and task forces aimed at advancing an institutional agenda for inclusive excellence. Mary chairs the University's Consultation Team for Incidents of Bias, the President's Commission on Diversity and Inclusion as well as the Inclusive Physical and Virtual Campus Committee that was instrumental in passing an institutional policy aimed at addressing universal design. As VPD she spearheaded the development of the institution's Principles of Community. She is co-founder of the Colorado Chapter of the National Association of Diversity officers in Higher Education and is active at the national level of that organization. She serves on the steering committee of CoCEAL (Colorado Coalition for the Educational Advancement of Latinos). She is also an active member of the Community Equity Consortium in Fort Collins. Mary was honored with the 2017 Latinas First Foundation's Award for women who have made extraordinary contributions to the community.