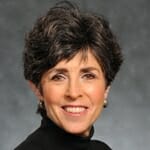 Clinical Assistant Professor Philadelphia College of Osteopathic Medicine
Nancy has been bringing practical, collaborative methods to organizations and communities facing complex issues since 1980. Nancy has extensive experience in designing and facilitating large group, task-focused, strategic meetings. She has applied this expertise to cases related to strategic planning, organization redesign, critical cross-boundary meetings, and leadership development.
Nancy is clinical assistant professor in the Organization Development Leadership Program at Philadelphia College of Osteopathic Medicine where she teaches courses on Appreciative Inquiry, Systems Literacy and Leader as Meeting Designer and Facilitator. She designed and facilitates a multi-day Leadership Institute for Friends Services for the Aging and the Penn Foundation.
Nancy received her PhD in Applied Learning Theory from Temple University.