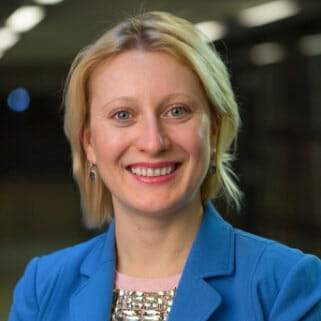 Director of Online Education, Lehman College – CUNY
Dr. Olena Zhadko is an enthusiastic educator devoted to advancing teaching and learning with technology. Olena has had experience with online learning as a student, instructor, designer and an administrator and she brings nearly 15 years of experience in Higher Education. She currently serves as the Director of Online Education at Lehman College, City University of New York, acting as the College's senior administrator charged with the oversight of all facets of online instruction, from web-enhanced learning experiences to hybrid course development and fully online programming.
Olena has worked at three innovative academic centers, providing leadership and assistance in articulating and implementing effective teaching, and infusing best practices into curriculum development, delivery, and assessment through the effective use of technology. Her work has focused on innovative approaches in faculty development and meeting faculty where they are in the fast-changing academic environment.
She received a Ph.D. in Education with a specialization in Teaching and Learning and Educational Technology from the University of Missouri-Saint Louis. She is an alumna of the Institute for the Emerging Leadership in Online Learning (IELOL), and the International Institute for Faculty Developers. She also serves on the advisory board of the Distance Teaching and Learning Conference.