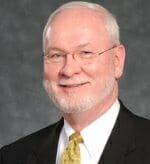 Pat serves as the head of The Sanaghan Group, an organizational consulting firm specializing in leadership development, executive coaching, strategic planning, and leadership transitions. Previously, he was a partner in the Napier Group, which is a consulting group that serves the Fortune 100 and many top tier colleges and universities. Pat has worked on over 225 campuses both in the United States and Canada. He also serves as a board member of the College of Saint Benedict in St. Joseph, MN.
Pat is the co-author/author of seven books and over 50 papers, monographs, and articles in the fields of strategic planning, leadership, and change management. His most recent books include: Collaborative Leadership in Action and How to Actually Build an Exceptional Team. He has just completed a book on leadership in higher education, which will be published in the Fall of 2017. Pat is also the co-author of the SPIES survey, which is a validated instrument that assesses a campus' capacity to actually implement their strategic plan.
Pat has a BA in History from La Salle University, a masters degree in Special Education, and a doctoral degree in Organizational and Group Development both from Temple University. Pat has provided executive coaching for over 100 college/university presidents, provosts and deans in the last twenty-five years. He has taught leadership to thousands of leaders in higher education and helped over one hundred campuses conduct collaborative, transparent strategic planning processes.