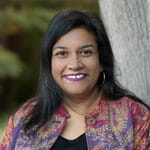 Dean of Student Life, Johns Hopkins University
Dr. Smita Ruzicka serves as Dean of Student Life at Johns Hopkins University, where she provides leadership for a wide portfolio of services and programs aimed to enhance the overall student experience. Her portfolio includes student leadership and involvement, diversity and inclusion, health and wellness, residential life, crisis management and support services.
She has over 15 years of experience in higher education, having served in leadership roles at Tulane University and The University of Texas at Austin prior to arriving to JHU in 2018.
Dean Ruzicka earned her BA in psychology and English from Trinity University (TX), an MA in counseling psychology from Texas State University, and a PhD in Higher Education Administration from the University of Texas at Austin.
Dr. Ruzicka has also had experience in the classroom and has taught courses in the areas of diversity and inclusion as well as course focused on leadership theories and practice. Her research interests include South Asian American students as well as issues impacting the experiences of Asian Americans. She has also served on a number of professional and community organization boards including the YWCA of Greater Austin and the Indian American Coalition of Central Texas.
Outside of her work, Dean Ruzicka serves another important role – that of being mother to the class of 2039 student, Rohan (age 3) who keeps her on her toes constantly!