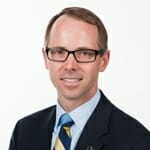 Steven P. Girardot, Ph.D.
Associate Vice Provost for Undergraduate Education, Georgia Institute of Technology
Steven P. Girardot, Associate Vice Provost for Undergraduate Education, has more than ten years of higher education experience, and earned both a BS in Chemical Engineering and a Master's Degree in Chemistry from Georgia Tech. He completed his doctorate in Chemistry and Environmental Health at Emory University, and a Master of Public Health (MPH) degree in Epidemiology from the Emory University Rollins School of Public Health.
Dr. Girardot has extensive background in student transition, retention, and success. Steven's experience includes serving as the founding director of Georgia Tech's Center for Academic Success and co-chairing Georgia Tech's Complete College Georgia Steering Committee. He also served as the Director of the Office of Success Programs (which included new student orientation, first-year seminars, sophomore programs, tutoring, and academic support programs); Assistant Director for TA and Graduate Student Programs at Tech's Center for the Enhancement of Teaching and Learning (CETL); and Program Coordinator at Tech's Center for Education Integrating Science, Mathematics, and Computing (CEISMC), where he managed tutoring programs that linked Tech students to local elementary schools. In addition to his administrative positions, he teaches Freshman Seminar (GT1000) and Freshman Chemistry.