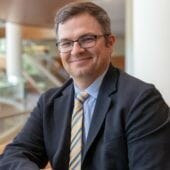 Executive Director for Employer Relations, Wake Forest University
Stuart Mease has committed his career to connecting talent and companies. His service in this industry spans the private, governmental and higher education sectors providing a unique lens to the labor market.
Currently, Mease serves as the Executive Director of Employer Relations at Wake Forest University. Prior to this role, he worked at the Virginia Tech Pamplin College of Business overseeing admission and diversity recruiting, mentoring, career services, employer outreach and lifelong career services. He has authored "The Perfect Job Seeker" for Wiley and has developed other content for their Wiley Plus platform. Prior, he worked has a corporate recruiter for Rackspace.
Mease's enjoyment of working in the talent ecosystem stemmed from a stint at the City of Roanoke, Virginia where he created programs and events aimed at attracting and retaining the creative class workforce.
Stuart enjoys spending his free time with his wife and two children.