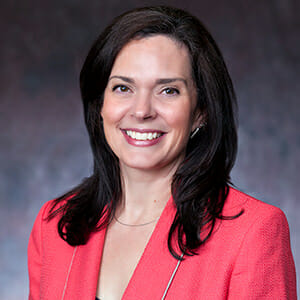 Traci Callandrillo, Ph.D.
Assistant Vice President of Campus Life, American University
Dr. Callandrillo is a licensed psychologist and has served in higher education mental health leadership at three institutions, including American University in Washington DC. She was a founding member of the Higher Education Mental Health Alliance (HEMHA) and has served as the Vice President of Professional Practice for the Society of Counseling Psychology (SCP), the Chair of the Section on College and University Counseling Centers for SCP, and as a member of the Directorate for ACPA's Commission for Counseling and Psychological Services. She received her Ph.D. in Counseling Psychology from the University of Kansas, and holds a bachelors degree in Art History. In her current role, Dr. Callandrillo leads a divisional team of departments focused on providing student support services, health and wellness interventions and initiatives, international student scholar and immigration services, student case management, and student conduct. Dr. Callandrillo has also worked in a variety of administrative and clinical positions in university counseling centers, most recently as the Executive Director of the Counseling Center at AU.