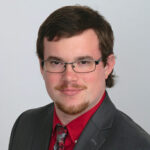 Adam J. Raab
Senior Financial Analyst, Embry-Riddle Aeronautical University
In his current role, Adam provides data-driven decision support to institutional senior leadership in the areas of academic program costing, competitive and peer analysis, and institutional rankings. He oversees the economic performance model for the institution, and provides valuable insights into the economic and financial health of the institution.
Before joining the Office of Institutional Research last year, Adam spent ten years in the Office of Strategic Planning and Analysis. He also participated in the Business Intelligence team as a data analyst. Throughout this time he has managed peer analysis systems, developed an administrative assessment program, and facilitated the development of an academic program financial review process.
Adam holds both a Bachelor and Master of Science in Aeronautics degree in addition to an Associate's of Science in Aviation Maintenance from Embry-Riddle Aeronautical University. Adam is currently pursuing a Doctorate of Education in Higher Education Leadership at Nova Southeastern University.