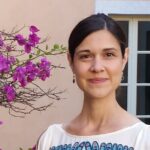 Allison DiBianca Fasoli, Ph.D.
Allison is a faculty coach, developmental-cultural psychological researcher, and educator. As a nationally funded, mixed methods researcher with 15 years of experience in higher education, she understands the unique opportunities and challenges that faculty members face today as they navigate research, teaching, and service.
Allison's coaching process is informed by decades of researching and teaching about concepts related to learning processes, motivation, decision-making, self-concepts and identity, and theories of human growth and development. Drawing on her background in qualitative interviewing and in counseling and clinical psychology, Allison attends to subtle shifts in energy and emotional tones, allowing her clients to clarify what they want, open possibilities for action, and make decisions they can trust.
Allison earned her Wellness Coaching certificate from Emory University and is currently earning an advanced degree in counseling and clinical psychology. She also has training in Academic Coaching through Landmark College and training in scholarly writing through the University of Chicago's Writing Program. She unites these areas of wellness and academic coaching together with her background in higher education to coach faculty at the intersection of work, identity, and wellbeing. Whether faculty are feeling over-committed, anxious, stuck, or simply want to increase their research productivity, Allison's aim is to help faculty improve their academic work and personal well-being at the same time, such that faculty can engage more intentionally and with greater energy, clarity, and confidence.