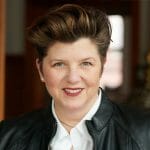 Amy Morton
Vice President and Chief of Staff, Worcester Polytechnic Institute
Amy has been in her position at WPI since 2017. She brings more than 30 years of business leadership experience to the role, both as a highly successful marketing and communications leader and as a teacher, advocate, and professional development consultant. She is passionate about advancing the university—through her leadership on campus and through her work externally to elevate the institution's stature in the world. She began her tenure at WPI as Chief Marketing Officer, a position she held from 2011 to 2017.
  
The oversight and execution of major university-wide initiatives falls under her purview, including the planning and oversight of WPI's Strategic Plan, its Annual Planning and Budgeting Process; WPI Forward, WPI's Operational Excellence Initiative; and the launch of the next phase of WPI's Center for Project-Based Learning. In addition, she sets strategic direction and is responsible for Undergraduate Enrollment Management, Marketing and Communications, and Institutional Research.  
Before joining WPI, Amy was Vice President of Marketing at Pearson Education, where she directed the marketing efforts of a $640M STEM publishing program.