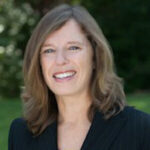 Chris Coward, MSW, PCC
Christine "Chris" partners with individuals and teams in both large and small organizations, using her strengths-based approach to improve their communication, productivity, leadership presence, and relationship management. She has spent over twenty years in leadership positions in a variety of non-profit settings as well as entrepreneurial start-up companies holding leadership positions in Operations and Executive Management. In the last nine years, she has focused much of her Executive Coaching career on serving non-profits, government organizations, universities, the financial service industry, and healthcare industries.
Chris has worked with numerous clients to assess and provide executive coaching to leaders across mid to senior levels of management around emotional and social competence, core values, and organizational climate. Utilizing assessment results from validated measurement tools and inventories, Chris has created and delivered over a hundred summary feedback reports providing clients and participants with a clear understanding of strengths, opportunities, and recommendations for development.
In a consultative capacity, Chris confers with clients to assess the leadership capabilities of high-potentials, mid-level managers, and executives. She also works with senior leaders to create and deliver leadership development programs for both new and experienced leaders in a variety of industries including non-profits, government, higher education, healthcare, and financial services.