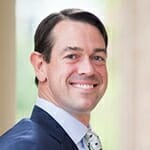 Chris Nicholson
Assistant Dean of Enrollment, Marketing, and Partnerships, University College at University of Denver
Chris Nicholson has over two decades of leadership in higher education as an administrator, consultant, speaker, and faculty member. He currently serves as Assistant Dean of Enrollment, Marketing, and Partnerships for University College at the University of Denver, which offers over 100 academic programs and a robust portfolio of non-credit programing to over 8,000 learners across the world.
Chris also serves as a consultant for RNL (formerly Ruffalo Noel Levitz), where he helped launch the firm's adult, online and graduate practice, and actively consults with college and university leaders on strategic enrollment planning, online program strategy, academic program development, review, and assessment, marketing strategy, and organizational structure.
Chris has taught undergraduate and graduate courses in marketing and higher education for nearly 20 years, and speaks around the world on a range of topics, including professional, online, and continuing education, enrollment management and marketing, and U.S. higher education structure and policy. He is active professionally, serving for several years as a volunteer leader for the University Professional and Continuing Education Association (UPCEA).