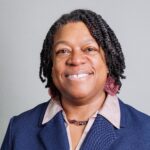 Cindy Threatt
Cindy has over 25 years of professional experience promoting student development and success through her work as a Student Affairs professional. Her career includes work at large and small as well as public and private institutions. Residence Life was Cindy's introduction to student affairs, allowing her to achieve progressively expansive roles—most recently, as the Associate Vice President of Student Affairs and Dean of Students at Rider University.
Having coached, mentored, and supervised hundreds of professional and student staff, Cindy grounds her efforts in the belief that elevating the strengths and attributes of others is exponentially motivating and inspiring. During her career, Cindy has focused on building partnership bridges throughout and amongst the campus divisions on behalf of students. Once in place, these bridges provide safe and accessible paths for students to traverse both the predictable and unexpected challenges that college life presents.
Cindy holds a Bachelor of Science degree in Psychology and a Master of Science in Counseling with a Higher Education concentration, both from West Chester University of Pennsylvania. Her background in counseling established the solid foundation upon which she has built the strong leadership competencies and human development skills that guide her work.
Cindy marks her time at WCU as the start of her two most significant life-changing relationships, as where she began her career in higher education and where she also met Jennifer Widdis, her wife and the love of her life. Cindy and Jennifer have lived in several different states during their 32-year relationship, and having both been born and raised in the greater Philadelphia area, they are happy to have settled in New Hope, Pennsylvania, where they enjoy the arts, culture, and vibrant social scene.