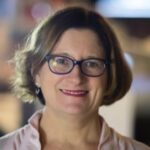 Corinne Nicolas, Ph.D., ACC
Corinne is a faculty coach who leverages 25 years of experience in higher education to help early-career and mid-career female faculty navigate key professional transitions. In her academic career, she was a writing professor who enjoyed helping students find their academic voices, as well as leading colleagues to experiment with student-focused and engaging pedagogies. She also led several academic programs, serving as chair of a humanities division and director of a general education program, while also leading efforts to revise curricula and faculty policies. More recently, she was a faculty development consultant for a large university's teaching and learning center, working closely with the provost's office to design and implement a university-wide, programmatic assessment training for academic leaders as part of a reaccreditation process.
Corinne's interest in coaching and her decision to become a full-time, certified coach were driven by her observation that the support women get as they build their academic careers is often inadequate or counterproductive, leaving them isolated, second-guessing themselves, and limiting their career advancement. As a coach, she strives to provide the unconditional support and guidance women desire, in order to build careers in ways that align with their goals and how they move through the world.
Corinne primarily coaches women faculty in STEM and professional fields, many of them at research universities, as they wrestle with expectations around productivity, professional identity, parenting, academic authenticity, and their next career steps. She partners with them to clarify their professional vision, to identify goals that support that vision, and to create a path for achieving their goals that aligns with their values and context.
Corinne holds a Ph.D. in Composition and Rhetoric from Indiana University of Pennsylvania, a Master's Degree in Education from Tusculum University, and a Master's in English from the Université de Haute Bretagne, in France, where she completed her undergraduate work. She is also credentialed as an Associate Certified Coach by the International Coach Federation.