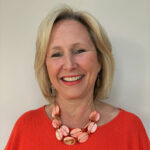 Debbie Meyers
Founder and Chief Inspiration Officer, EDIT!
As Chief Inspiration Officer at EDIT!, Debbie provides editorial direction, inspiration and training to advancement professionals. With her lifelong love for writing, her positive energy and sense of humor, she helps take the pain out of drafting advancement communications.
Debbie has worked in advancement for more than 30 years, much of that time in higher education. She has created or enhanced operations, communications, donor relations and stewardship programs at Chautauqua Institution, the University of Maryland, Carnegie Mellon University and the University of Florida. She also has built communications and development programs for a Catholic high school, an art museum and a health center development office.
A founding board member of ADRP, she chaired the international conference in 2011 and has a consecutive streak of presenting at every ADRP international conference, and some even before ADRP was formed. Debbie has a bachelor's degree in English and a master's degree in journalism, thanks to her mother who corrected her grammar from her first spoken word. She married her high school drum major, and they have four grown children and two goofy dogs.