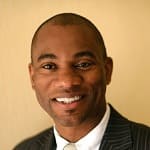 Dexter Bailey
Senior Vice President for Advancement; Executive Director of the Stony Brook Foundation
Stony Brook University
Dexter A. Bailey Jr. is a fundraising executive with over 25 years of experience building successful programs at both public and private universities including Worcester Polytechnic Institute, UC Berkeley, University of Washington, Ohio University, and now at Stony Brook University. During his career, he has been directly involved in raising over $700 million. He is also the executive director of the Stony Brook Foundation, a private 501(c) (3) with $500 million in total assets.
His expertise includes reengineering comprehensive fundraising programs, complex principal gift strategy development, alumni relations, staffing development and comprehensive campaign implementation. Dexter is often invited to speak around the country on issues related to leadership in advancement, principal gifts strategies and the role and experience of minorities in university advancement.
As senior vice president of advancement at Stony Brook University, his fundraising responsibilities encompass Stony Brook University, Stony Brook University Hospital, Stony Brook Children's Hospital and the campuses in Southampton, New York; Turkana Basin Institute, Kenya; SUNY Korea; and Centre ValBio, Madagascar.
Since Dexter arrived in 2011, Stony Brook has launched a $600 million campaign that is unprecedented in the State University of New York (SUNY) system. To date, the campaign has generated more than $468 million, including a historic $150 million lead commitment. In 2014, the Council for Advancement and Support of Education recognized Stony Brook's fundraising program for "Overall Performance" and "Overall Improvement" among peer public research universities.
Dexter earned a BS in journalism from the E.W. Scripps School of Journalism at Ohio University and an MBA from the University of Toledo.