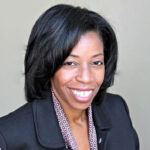 Dorine Lawrence-Hughes, J.D., Ed.D.
Assistant Dean for Undergraduate Education, University of Michigan, College of Literature, Science and the Arts (LSA)
In her current role, Dorine helps to facilitate various cross-school, cross-curricular, and co-curricular initiatives for effective teaching and learning. Dorine's research as a scholar-practitioner focuses on communication and leadership for women and women of color and she is a strong advocate of leadership learning communities. She has presented her research at AERA, ASHE, AACU, the International Leadership Association and the International Association for Conflict Management. She conducts lectures and seminars on topics including inclusive leadership, storytelling, women and leadership, and executive presence and often serves as a consultant and coach for faculty and other higher education managers and leaders who are intentional about investing in their own personal and professional development. She has served as a faculty fellow for HERS, the renowned residential higher education leadership institute for women and she is the co-creator of the University Women's Leadership Academy, a UCLA-sponsored leadership institute. As a trained coach and facilitator, Dorine strives to fulfill her commitment to lead by serving others.