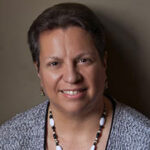 Dr. Marie L. Miville
Vice-Dean, Faculty Affairs at Teachers College, Columbia University
As VDFA, Marie coordinates many aspects of faculty work life, including organizing the New Faculty Orientation, assembling mentoring committees for pre-tenure faculty, preparing summary reports for the Provost Office regarding the tenure and promotion processes of individual faculty members, meeting individually with faculty regarding any concerns they may have, and providing support services for faculty during the retirement process. She is responsible for creating faculty development workshops and events as well as nominating faculty members for external awards. Marie also is a Professor of Psychology and Education in the Department of Counseling and Clinical Psychology. She is the author of three books, including a newly published title exploring the experiences of women in STEM fields, and over 65 publications dealing with multicultural issues in counseling and psychology. Marie previously served as Associate Editor of The Journal of Multicultural Counseling and Development, and is the Book Series Editor for the American Psychological Association (APA) Division 44. She previously served as the 2015 President of the National Latinx Psychological Association (NLPA), President of the Council of Counseling Psychology Training Programs, and Vice-President for Education and Training for the APA Division 17. Dr. Miville is an APA Fellow (Divisions 17 and 45). Prior to her current administrative appointments at Teachers College, Dr. Miville served as the College Ombuds, Director of Training/Program Director of Counseling Psychology, and the Chair of the Department of Counseling and Clinical Psychology.