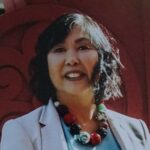 Grace Wong Sneddon, Ph.D.
Adjunct Assistant Professor, University of Victoria, Art History & Visual Studies
Dr. Grace Wong Sneddon has an Interdisciplinary PhD in Anthropology and Pacific and Asian Studies. As past Director of Academic Leadership Initiatives and Advisor to the Provost on Equity and Diversity at the University of Victoria, she continues to share her knowledge and expertise with organizations locally, regionally, nationally, and internationally. She consults with post-secondary institutions and corporate organizations.
Her areas of research include: equity, diversity and inclusion, race and gender in popular culture, Asian North American identity, Chinese Canadian Spirituality in the 21st Century, and the Chinese diasporic culture. Dr. Wong Sneddon is committed to community engagement. She is vice-president of the Greater Victoria Eldercare Foundation, treasurer of the Hoy Sun Ning Yung Association, chair of the Victoria Foundation, and a member of TRIUMF Board of Management, Personnel, and Administration Committee.