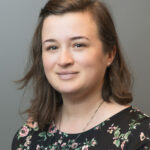 Jenna Ledford
Learning & Development Manager
Jenna brings over a decade of experience to her role as Learning & Development Manager for Faculty & Student Success, having worked in higher ed as student, faculty, and staff. She leverages her knowledge and experience of academic culture in combination with her background in pedagogy, instructional design, and faculty development to co-create solutions to higher education challenges. Her love for the higher education landscape comes from her experiences as a first-generation college student. Jenna joined Academic Impressions in June 2021.
She lives in Denton, Texas, north of the Dallas-Fort Worth Metroplex, home of the University of North Texas and Texas Woman's University. She likes to make art, read books, experiment with cooking, and adventure with her husband and young son.