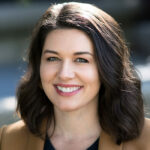 Jess Landis
Jess Landis, Senior Learning and Development Manager
As a Senior Learning and Development Manager at Academic Impressions, Jess leads AI's strategy and content development for our inclusive leadership and women's leadership programs, creating engaging learning experiences for faculty and staff to expand their self-awareness, work effectively and mindfully with others, build high-performing teams, and collaboratively lead strategic initiatives.
Prior to joining Academic Impressions full-time, Jess served as a subject matter expert and educator for Academic Impressions while serving in her role as the Assistant Dean of Students and Title IX Deputy Coordinator at Loyola University Chicago. She has worked in a variety of capacities within higher education, including student success, conflict resolution, student conduct, Title IX, and gender equity.
Jess holds a BA from John Carroll University and an MA from the University of Cincinnati. She holds a certificate in Women in Leadership from Case Western Reserve University's Weatherhead Executive Education Program and has completed Chicago's Center for Conflict Resolution 40-hour Mediation Skills Training.