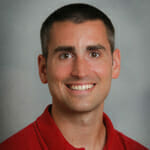 Jonathan Fries
Interim Executive Director, Academic Achievement Center and Director of Second-Year, Transfer & Transition Initiatives, University of Lynchburg
In his current role, Jonathan oversees Transfer, Adult Learner, Commuter, and Second-Year student services. This includes overseeing the transfer peer mentoring program, Transfer Orientation, Adult Orientation, Second-Year Welcome Week, Tau Sigma: Transfer Honor Society, and the Commuter Student Association. He is also the Interim Executive Director of the Academic Achievement Center. Jonathan has 10 years of experience working in higher education, with four of those years working directly with transfer and adult learners.
Currently, he is serving as the co-chair for the Transfer Network for NODA the Association of Orientation, Transition, and Retention in Higher Education. He has presented at numerous conferences on Transfer, First-Year, Second-Year, and Commuter students. Some topics have included "Creating an Innovating Transfer Student Experience," "Creating Successful Transitions: The Transfer Orientation Experience," "Lynchburg College Legacy: Blazing the Path to Staying Relevant in FYE," "Drive-in and Stay: Transitioning Your Approach to Commuter Student Programming and Climbing the Second Year Mountain to Success." He has experience in developing guided pathway programs with Lynchburg College and the local community college in Lynchburg. Past leadership roles have included the NODA Region 8 Graduate Coordinator, Chair of the Staff Advisor Committee for Lynchburg College, and Co-Chair of Second-Year Success Committee. He has co-coordinated the Emerging Leader Retreat for first- and second-year students at Lynchburg College for the past two years.