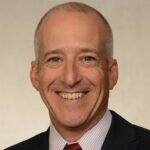 Jonathan Millen
Dean of the College of Arts and Sciences, University of New England
Jonathan is a past president of the New Jersey Communication Association and member of the editorial board of the Atlantic Journal of Communication, he earned his Ph.D. in Communication from the University of Massachusetts, Amherst before joining the Rider faculty in the Department of Communication and Journalism. An active member in the Council of Colleges of Arts and Sciences (CCAS) since 2011, in 2016 he was elected to its board of directors after directing and facilitating a wide array of its professional development workshops.
Jonathan's research on conflict resolution has been published in Mediation Quarterly, Human Communication, and Human Systems. His work on political discourse appears in the Atlantic Journal of Communication, Studies of Communication in the 2012 Presidential Campaign, and the forthcoming You Shook Me All Campaign Long: The Role of Music in the 2016 Presidential Election and Beyond.