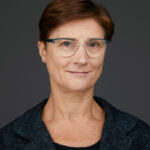 Karen Souter
Karen guides academic faculty in developing leadership skills, advancing their careers, and creating alignment between their work and life.
Karen is an ICF Associate Certified Coach (ACC) and a practicing physician anesthesiologist with an international medical career spanning over 30 years. Her experience as a national leader in academic medicine and education informs her work as a coach. Karen's areas of coaching expertise are in leadership, professional development, and navigating the fine balance between a successful career and a nurturing home and family life.
Karen's coaching approach is centered on the partnership between coach and coachee; she creates a safe space for her clients to explore and find alignment between their core strengths and values and their goals. Her coaching focuses on deep listening and using powerful questions to inspire curiosity, and to assist her clients in establishing a strong foundation from which to grow as leaders and pursue their professional goals.
Karen coaches physicians, academicians and business professionals at all levels of professional development as they establish themselves as leaders and make career transitions. Examples of areas where her clients have enjoyed success include developing their own personal leadership style, leading teams, negotiating, navigating difficult conversations, and using 360-degree evaluations. She uses a variety of tools and techniques tailored to the needs and goals of her clients.
Karen trained as a physician anesthesiologist in the UK (MB BS) and Canada and moved to the US in 2002 to join the medical faculty at a large academic center where she currently holds the rank of full professor. She served as the anesthesiology residency program director for 12 years and was awarded the ACGME Parker J Palmer Courage to Teach" award in recognition of her leadership and innovation as a program director. She has a master's degree in education & academic medicine (MACM) and throughout her career she has taken an active leadership role nationally in professional societies related to anesthesia and education. Her training and certification as a coach was a natural progression in the career of a medical educator founded on caring, creativity, mentoring, and giving back.
Karen lives and works in Seattle; she loves the outdoor life and the beauty of the Pacific Northwest and enjoys traveling internationally with her husband Mike.