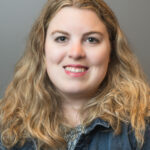 Katie Jeanneret
Customer Relations Manager
As Customer Relations Manager, Katie manages all correspondence with our customers and Subject Matter Experts, and coordinates various internal procedures for our Operations Team. She enjoys problem solving and finding a way to meet the needs of everyone we work with.
Katie graduated with a Bachelor of Arts in Drama from Washington University in St. Louis. Before making the move to Denver and Academic Impressions, she spent the last few years in the Washington, DC area working in performing arts and arts education. She is excited to explore all that Denver has to offer! When she isn't working, you can usually find Katie on a hike, doing yoga, going to a concert, or trying a new recipe or restaurant.