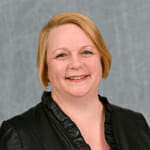 Lorena McLaren
Executive Director, Corporate & Foundation Relations, North Carolina State University
Lorena engages with university leadership to build and direct a central program that establishes and fosters successful partnerships with industry and foundations to support university priorities. Her experience in Corporate & Foundation Relations includes roles at Carnegie Mellon University and University of Washington.
Lorena has been involved in the Network of Academic Corporate Relations Officers (NACRO) since its formation in 2007, including committee roles, conference host, and facilitating mastery sessions. She served a three-year term as Vice President, President, and Past President from 2010-2013.
Lorena holds a Bachelor's degree in Business Administration from Central Washington University and a Master's degree in Education from Western Washington University. Lorena was born and raised in the Seattle area.