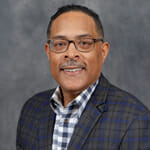 Dr. Marcus S. Cox
Associate Dean, Graduate Programs and Summer School and Director of the Center for Continuing Studies and Distance Education in the College of Arts & Sciences, Xavier University of Louisiana
Marcus earned an undergraduate degree in marketing and a master's degree in history from Southern University as well as a master's degree in business administration from The Citadel School of Business Administration. He received his doctorate degree in African American history from Northwestern University in Evanston, Illinois. Throughout his professional career, he has held leadership positions as Founding Director of the African American Studies, Assistant Dean of the School of Humanities and Social Sciences, and Associate Dean of The Citadel Graduate College with the leadership responsibility of Evening Undergraduate Studies. He holds the distinction of being the first African American faculty member appointed to the position of Dean in the 172-year history of The Citadel Military College of South Carolina.
Marcus specializes in African American civil-military history, the Modern Civil Rights Movement, African American history, and U.S. history post-1945. He is the author of over a dozen articles and reviews on the history of African American military personnel, black higher education, and military training programs at black colleges and universities. He is also the author of Segregated Soldiers: Military Training at Historically Black Colleges in the Jim Crow South. Marcus' current book project uses the U.S. military's landmark studies on race relations in the armed forces, Freedom to Serve (1950), The President's Committee Equal Opportunity in the Armed Forces (1964), and From Representation to Inclusion (2011) to assess racial progress in the armed forces today and explain why the U.S. military continues to be a societal barometer for social progress in America.
Among many organizations and associations, Marcus is a member of Alpha Phi Alpha Fraternity Inc., the Knights of Peter Claver Inc., the American Conference of Academic Deans, the Southern Historical Association, and the Association of the Study of African American Life and History.