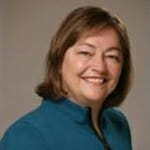 Mary Pahissa Upchurch
Senior Partner, Gray Associates
Mary leads Gray's relationships with several of the firm's largest education clients. Her work includes strategy development, program portfolio evaluation, new program selection, customer segment analysis, market and program analyses, brand value and offer optimization, and location selection.
In addition, Mary has over 25 years of management experience with AT&T, most recently as a Vice President. At AT&T, she led Strategy & Business Planning for the Consumer business unit and held a variety of positions in Integrated Product Marketing, Product Management, Field Operations, Customer Care, Technical Support and Sales. She was named AT&T's Catherine B. Cleary "Woman of the Year" for 2001.
Mary currently serves on Arizona State University's Morrison Institute for Public Policy Advisory board and is a member of its Executive Committee. She is a member of the Board of Directors of Fresh Start Women's Foundation and served as its Board Chair for two terms. She is also a past member of Greater Phoenix Leadership, serving as co-chair of its P-20 Education Committee.
Mary holds a Master of Science in Management degree from Purdue University. She received a Bachelor of Arts degree in Organizational Communications from Rollins College, graduating with high honors.