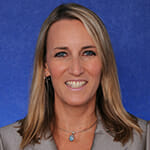 Melissa Dagley, Ed. D.
Executive Director, Center for Initiatives in STEM, University of Central Florida
Dr. Melissa Dagley serves as PI of the NSF-funded STEP 1b program "Convincing Outstanding-Math-Potential Admits to Succeed in STEM (COMPASS)," and Director for the formerly NSF-funded "EXCEL:UCF-STEP Pathways to STEM: From Promise to Prominence". She is a Co-PI for the Girls EXCELling in Math and Science (GEMS) and WISE@UCF industry funded women's mentoring initiatives. In addition to guiding undergraduates towards a successful path in STEM, Dr. Dagley directs the STEM K-12 outreach and teacher training initiatives for the Colleges of Science and Engineering and Computer Science and leads a fellows program for faculty interested in STEM education and education research. Through iSTEM, Dr. Dagley works to promote and enhance collaborative efforts on STEM education and research by bringing together colleges, centers, and institutes on campus, as well as other stakeholders with similar interest in STEM initiatives. Her research interests lie in the areas of student access to education, sense of community, retention, first-year experience, living-learning communities, and persistence to graduation for students in STEM programs.