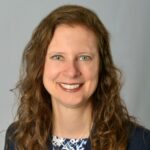 Michelle Brown
Dean of the Macricostas School of Arts and Sciences, Western Connecticut State University
Michelle oversees the largest School on campus, with nearly half of the university's academic departments, students, and full-time faculty. As Dean, she publicly branded the recently-named Macricostas School through "Macricostas Experience" – free events celebrating hands-on learning and open to the public. She led her faculty to identify and invest in shared goals across 13 departments in STEM, Humanities, and Social Sciences. She also created donor-funded scholarships for underrepresented students in STEM and donor-funded grants for faculty-student collaborative projects that merge tech and artistry.
Michelle was previously the Shenandoah University Fellow for Academic Excellence (equivalent to an Assistant Provost) where she served on the academic leadership team in a competitive two-year appointment reporting directly to the Provost. Prior to that, she was Department Chair and led a massive program overhaul that merged two competing faculty groups into one cohesive department.
A graduate of the Harvard University Management Development Program and an Aspen Institute Wye Faculty Fellow, Michelle earned her Ph.D. from the University of Maryland. She is an award-winning, energetic leader with a reputation for problem solving through team building.