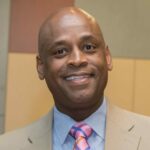 Nate Bryant, Ed.D.
Chief of Staff, Salem State University
Dr. Nate Bryant joined Salem State in 1987 and today brings his 30 years of leadership at the university to his role as Chief of Staff. In his role, Nate is responsible for the oversight of the president's office, including: overseeing the offices of Civic Engagement, External Affairs, Grants, and Public Relations.  Nate provides oversight for the president's office day-to-day activities, supports the work of the Board of Trustees, and administers coordination between the president's senior leadership team and their respective offices.
Nate has previously held the positions of Dean of the Center for Academic Excellence, Assistant Dean of Students, and Director of Admissions. Nate received his Bachelor's in Business Administration and Master's of Education from Salem State University; he received his Doctorate in Education from the University of Massachusetts Boston.  A resident of Salem, MA, Nate currently serves his community in various capacities, including: Board of Directors, Salem Boys and Girls Club; Board of Directors, Salem Chamber of Commerce; Corporator, Marblehead Bank; and former two-term School Committee member for the Salem Public Schools. Nate also volunteers at the Haven from Hunger Food Pantry.