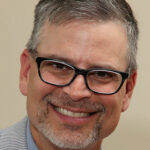 Nicholas Neupauer
President, Butler County Community College
Nicholas has served as president of Butler County Community College since 2007. His presidency at a single institution exceeds that of any current chief executive officer among Pennsylvania's 14 community colleges, 14 State System of Higher Education universities, and four state-related institutions.
Prior to being appointed as president, Nicholas served as BC3's vice president for academic affairs and as dean of humanities and social science. He was also an assistant professor and chair of the Communication Department at Marist College.
Nicholas has served as board chair of the Pennsylvania Commission for Community Colleges, as chair of two Butler County Heart Association walks and of the Butler County Chamber of Commerce. He and his wife, Tamatha, have also volunteered as co-chairs of the Butler County March of Dimes walk. He is a member of the executive committee and a board member of the Community Development Corp. of Butler County.
Nicholas has received a Jean B. Purvis Community Cornerstone Award, presented to an individual who has contributed significantly to the health and well-being of the community; and a Shirley B. Gordon Award of Distinction, the most prestigious award presented by Phi Theta Kappa.
His expertise in communication has been recognized with the distinguished Pacesetter Award from the National Council for Marketing and Public Relations (District 1), and with the Arthur V. Ciervo Award from the Association of Communicators in Education for excellence in communication and public relations to advance higher education.
He earned a doctorate degree in education in communication and instruction from West Virginia University.